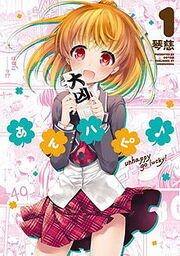 Anne Happy 
(あんハピ♪ Anhapi♪)
, also known as
Unhappy Go Lucky!
or
Unhappy
, is a slice of life comedy
manga series
written and illustrated by
Cotoji
.
The series began serialization in Houbunsha's Manga Time Kirara Forward magazine from December 2012 and is published in English by Yen Press. An Anime series adaptation by Silver Link began airing from April 7, 2016.
Class 1-7 is full of students deemed "misfortunate" within the elite school of Tennomifune Academy. These students are tasked with trying to overcome their own misfortunes, following the daily lives of Anne, Ruri, Botan, Hibiki, and Ren; each with their own problems and their own search of Happiness.
Characters
Edit
A cheerful girl with terrible luck who risks living every day as misfortune befalls her. She adores animals but they do not return the sentiment.
A seemingly normal and caring girl with a strange, sexual lust for various things that seeps out at given notice.
An extremely fragile girl who can barely stand on her own with a depressive aura. She is unable to take care of injuries- do to being the daughter of a doctor.
A close friend of Ren with major feelings for her. She is easily envious and has a poor sense of direction.
A childhood friend of Hibiki with a strange condition that attracts any female of any species to her.
Supporting
Edit
Kodaira

(小平)

The homeroom teacher of Class 1-7.

Timothy (チモシー Chimoshī)

A robotic rabbit butler who serves as a guide to the school.

Tsubaki Sayama (狭山 椿 Sayama Tsubaki)

A student of Class 1-7.

Saginomiya

(鷺宮)

The homeroom teacher of Class 1-1.

Sakura Hanakoizumi (花小泉 桜 Hanakoizumi Sakura)

Anne Hanakoizumi's mother.

Principal (校長 Kōchō)

The principal (head teacher) of Tennomifune Academy.